It was a cold and stormy day today and feeling a LOT like winter.  Therefore this put me in the mood for some pre-holiday baking.  This seemed like the perfect thing to make to start making my house smell like the holidays.  They truly accomplished the goal and were AMAZING!!
1 1/4 cups
semisweet chocolate morsels
1 cup
unsalted butter, cut into pieces
1 cup
plus 2 Tbsp. granulated sugar
2 tablespoons
cold brewed coffee
1 tablespoon
vanilla extract
2/3 cup
all-purpose flour
1 1/2 teaspoons
baking powder
1 teaspoon
kosher salt, divided
1/3 cup
firmly packed light brown sugar
1 1/2 teaspoons
pumpkin pie spice
Preparation
1.
Preheat oven to 350°. Pour water to a depth of 1 inch in the bottom of a
double boiler over medium heat; bring to a boil. Reduce heat, and
simmer. Place first 3 ingredients in top of double boiler over simmering
water. Cook, stirring occasionally, 5 to 6 minutes or until melted.
Remove from heat; cool 10 minutes.2. Whisk together 3 eggs, granulated sugar, and next 2 ingredients in
a large bowl. Gradually whisk warm chocolate mixture into egg mixture;
cool 10 minutes.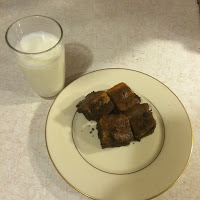 3. Grease a 13- x 9-inch baking pan with butter. Line bottom and
sides of pan with parchment paper, allowing 2 to 3 inches to extend over
sides. Grease (with butter) and flour parchment paper.
4. Sift flour, baking powder, and 1/2 tsp. salt in a bowl. Whisk into
chocolate mixture. Pour batter into prepared pan, reserving 2/3 cup.
5. Whisk together pumpkin, next 4 ingredients, and remaining 1/2 tsp.
salt; pour over brownie batter in pan. Top with reserved brownie
batter, and swirl batter gently 3 times in 1 direction and 3 times in
the opposite direction with a knife or the end of a wooden spoon.
6. Bake at 350° for 45 to 50 minutes or until a wooden pick inserted
in center comes out with a few moist crumbs. Cool completely on a wire
rack (about 2 hours). Lift brownies from pan, using parchment paper
sides as handles. Gently remove parchment paper, and cut brownies into
24 squares.
Steve & Kara Grant
Downtown Historic Bed & Breakfasts of Albuquerque
your Albuquerque New Mexico Bed and Breakfast Hosts