This morning I made for breakfast one of my forgotten favorites, Breakfast Enchiladas! I haven't made these in about 4 years but when I was thumbing thru my recipe book stumbled on them and decided to make them again. I truly forgot how yummy they are. So of course I decided I needed to share this recipe with everyone. I hope you enjoy them as much as my guests and I did!
Breakfast Enchiladas with Lemon Belgium Waffles
Breakfast Enchiladas
Ingredients:
8 eggs
2 large roasted green chile peppers (chopped)
2 green onions (chopped)
2 tomatoes (seeded and chopped)
1 10 oz. can of mild enchilada sauce
1 cup Mexican blend grated cheese
8-10 corn tortillas
Salt to taste
1 tablespoon butter
¼ cup chopped cilantro
Directions:
Preheat oven to 350 and grease a medium glass casserole dish.
Beat the eggs well, and add green onions, green chile peppers, and salt.
Melt butter in a pan and pour the egg mixture and cook until the eggs solidify.
Place some grated cheese on each tortilla.
Top with egg mixture, tomatoes, and cilantro. Roll the
tortilla and place in the casserole dish with seal side under.
Top with enchilada sauce and remaining cheese. Bake for
15 minutes at 350.
Serve with sour cream, salsa or guacamole if you like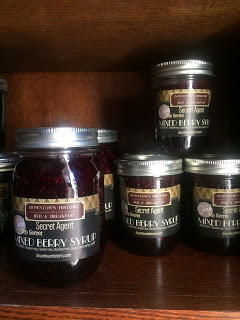 Fresh canned Mixed Berry Syrup that was served with the waffles. A fresh batch we just canned that is for sale in our gift shop!
Steve & Kara Grant
Downtown Historic Bed & Breakfasts of Albuquerque
your Albuquerque New Mexico Bed and Breakfast Hosts