Has the weather been cold lately? Bundle up and warm up your kitchen by making soup!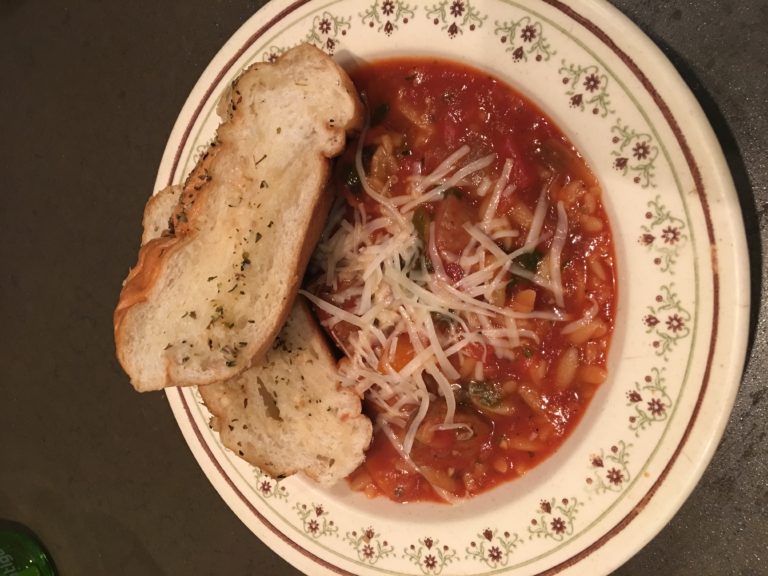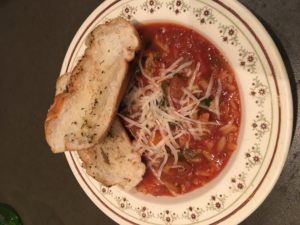 There are a wide variety of soup recipes to choose from guaranteed to help keep you toasty during the colder days of the year. Soups are a wonderful option because they are a great way to use leftover items from your freezer. Many recipes are forgiving in that it is very easy to not follow the exact recipe and still create something yummy. An example of this might be that if you do not have canned tomatoes you can easily substitute diced tomatoes or even use fresh. If you usually keep fresh spinach or kale, you could use that rather than frozen, or another option would be to toss these two ingredients into the freezer with the idea of using them in soup for a later time. Soups are great for a quick and easy lunch to heat up the next day.
One of my favorite recipes from the bed and breakfast is the Sausage Soup from page 105 of Personal Recipes From The Downtown Historic Bed and Breakfast. 
Sausage Soup
Ingredients:
6 (4 oz.) links of sweet Italian sausage
1 green bell pepper, chopped
1 onion, chopped
2 teaspoons chopped garlic
1 (28 oz.) can whole peeled tomatoes with liquid, chopped
1/2 cup chopped fresh parsley
2 teaspoons dried basil
8 cups chicken broth
1/2 lb. dried orzo pasta
1 (10 oz.) package chopped, frozen spinach, thawed and squeezed dry
Freshly grated Parmesan cheese to taste
Directions:
Place the sausage in a large skillet over medium heat and cook until evenly brown.
Remove from skillet and crumble into a large pot. Add bell pepper, onion, garlic and tomatoes with their liquid. Stir in parsley, basil and chicken broth.
Cover, place over medium heat and bring to a boil. Reduce heat to low and cook for 30 minutes.
Stir orzo pasta and spinach into the pot. Continue cooking soup 10 minutes, or until pasta is al dente. Serve topped with Parmesan cheese.
Garlic bread is a great side with this particular soup recipe!
By Kalli Edminsten